What YIREH Styles are Right for You?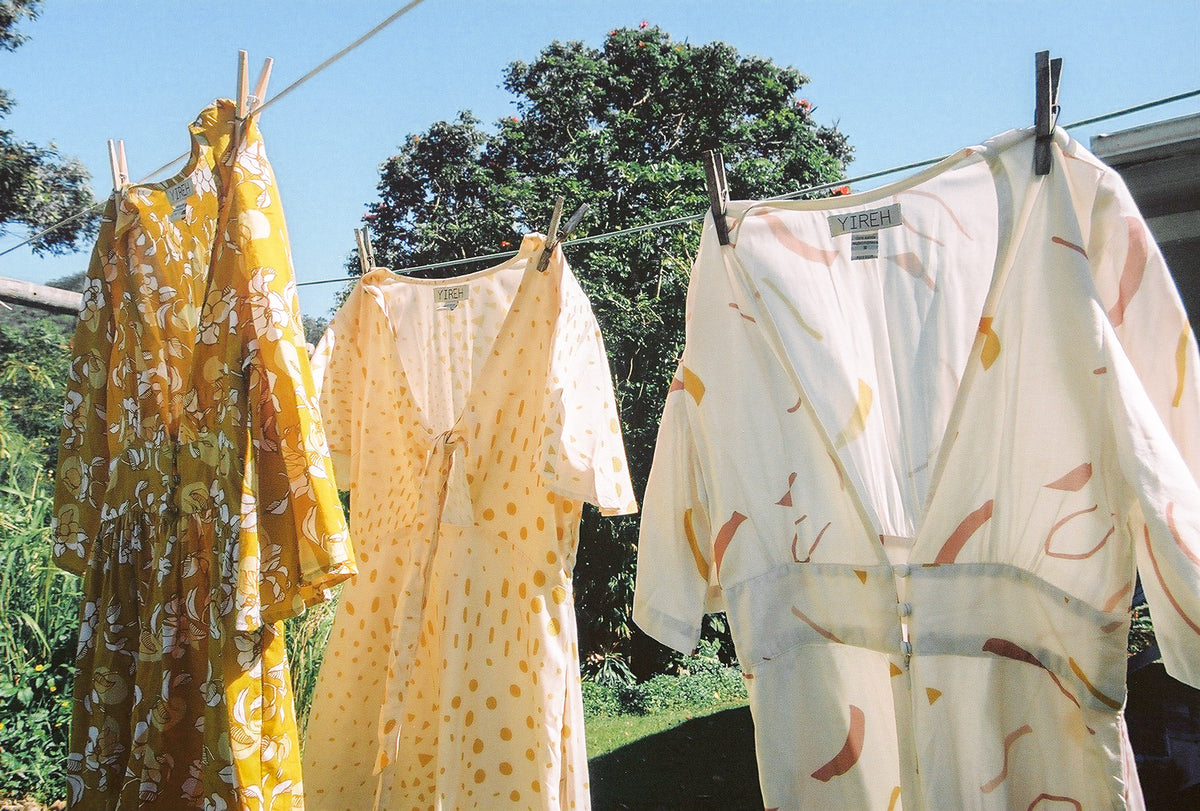 What you wear is personal - but getting dressed shouldn't stress you out. Yireh is designed to make getting dressed simple. Our feminine and versatile silhouettes and our one of a kind prints are perfect to throw on and go with confidence.

But sometimes finding your style can be challenging - so we've put together a little YIREH style quiz for you. As you answer each question, record your answer on your phone or a small piece of paper. Whichever number you selected most frequently will show you your results!
WHAT'S YOUR GO-TO DAILY OUTFIT?
1. A cute tee and denim - I am on the move and like to wear what's easy.
2. A tunic with intricate details - I like to wear things that are flowy and unique.
3. A wrap-dress - I like looking polished and put-together even if I'm just going to the grocery store.
4. Something vintage and statement earrings - I like retro vibes and keeping it simple yet bold.
WHERE WOULD YOUR DREAM VACATION TAKE YOU?
1. Camping - under the stars, cozy with people I love
2. Somewhere tropical - lush jungles, exotic foods, beautiful textiles
3. Tahiti or Fiji - blue skies, blue ocean, and my bikini
4. European tours - bring on cafes and museums and cobblestone
YOU'RE ABOUT TO LEAVE THE HOUSE - WHICH SHOES DO YOU WEAR?
1. Slippers - I like to keep it simple and easy
2. Bare feet - I prefer not to wear shoes
3. Heels - I like to keep it classy
4. Sneakers - I like to be comfortable and ready for anything
WHAT PERSONALITY DO YOU ASPIRE TO?
1. Steadfast - I want to be focused and always doing my best
2. Wild and free - I want to go with the flow and be adventurous
3. Effortless - I want to behave with ease and grace
4. Warm - I want to be full of warmth and compassion
HOW WOULD YOU DESCRIBE YOUR STYLE RIGHT NOW?
1. Easy-going - I prefer tees and denim or rompers...whatever does the job really
2. Bohemian - I prefer colorful prints and flowy silhouettes
3. Feminine - I prefer to show off my curves and feel romantic
4. Funky - I prefer vintage shopping and keeping it quirky
WHAT COLORS DO YOU LIKE TO WEAR?
1. Neutrals - I like to keep it basic
2. Floral prints - For a feminine and earthy vibe
3. Mostly solids - I am not a print person
4. Subtle prints - I like geometric or floral prints, as long as it's subtle
WHICH IS YOUR FAVORITE ACCESSORY?
1. My purse with all of my essentials
2. A cute straw sun hat
3. A simple gold chain necklace
4. Bold statement earrings
WHAT IS YOUR AT-HOME STYLE WHEN YOU HAVE NO PLACE TO BE?
1. Pajamas all day
2. Flowy duster and shorts
3. I get dressed as if I were going out
4. A cheery sundress
YOU'RE GOING OUT WITH YOUR GIRLS - WHAT ARE YOU UP TO?
1. Cooking dinner and watching a movie
2. Going out to watch live music
3. Shopping and the new trendy restaurant
4. Cocktails & karaoke
WHAT DO YOU WEAR FOR DATE NIGHT?
1. Whatever I wore all day will do
2. Flowy, floral wrap dress
3. Sleek jumpsuit with a deep neckline
4. A simple dress and cute hair scarf

Mostly 1's - Keepin' it Casual
You like your clothes to be easy and casual. You prefer solid colors or more subtle prints. You like to move around with ease and prefer anything you can throw-on and be out the door in minutes.
Styles for you: Nora Playsuit in Starfruit & Brynn Dress in Watercolor Nude (Sold Out)

Mostly 2's - Boho Vibes
You like floral prints, mandalas, and special details. You like being barefoot, spending time in nature, and just enjoying life as it ebbs and flows. You're not afraid to take risks in both life and fashion.
Styles for you: Willa Mini in Honey & Kaya Maxi in Linnea

Mostly 3's - Classy Lady
You're always polished and looking fresh. You like to look and feel feminine by showing off your figure and keeping it fairly simple. You like to look and feel your best, and put all of your effort into everything you do.
Styles for you: Indah Rose Maxi in Honey & Dixie Jumpsuit

Mostly 4's - Retro Chic
You're into vintage shopping, graphic tees, and classic silhouettes. You wear a little bit of everything and like to be bold and look unique. You lean towards easy silhouettes and pack a punch with a statement piece of jewelry or hair scarf.
Styles for you: Cleo Dress in Starfruit & Compass Jumper in Linnea
Leave a comment