Conscious Consumerism
Transparency & Sustainability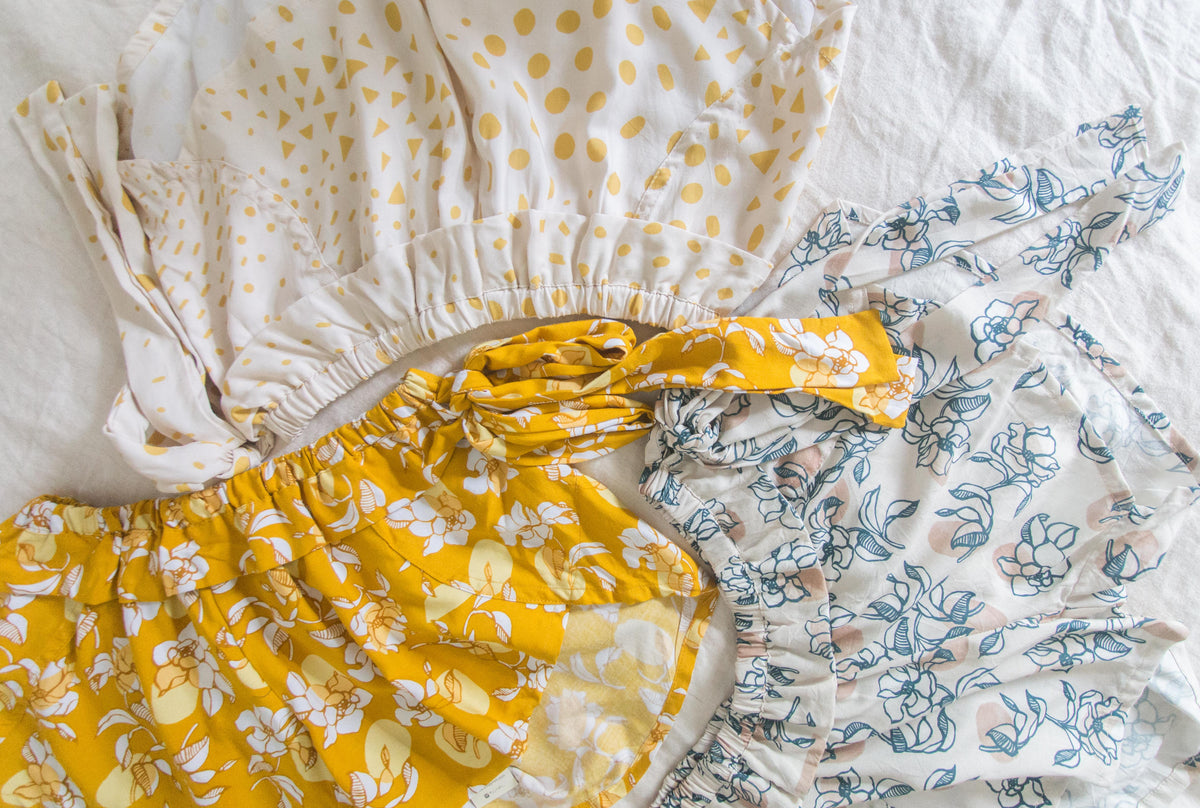 Step 1 - Learn more about energy + water usage in our production process.
While we knew that our factories were taking steps to reduce their own impact, we came to the realization that our printing method in particular needed to go in a different direction. As much as we loved hand-printing, the method required the use of specific dyes and a lot of water. Imperfections were common and created more waste. So this year we decided to make the switch to digital printing. Our new printer uses nontoxic dyes, no water (!!!), and allows for a more consistent result - and in turn less waste. The cost on our end has quadrupled but we decided this is a change that is worth it.
Step 2 - Upcycle & reduce waste
We have always produced in small batches, making only as much as we need to ensure we don't end up with excess product and fabrics. Any excess fabrics have gone to local Balinese businesses for a small fee and then repurposed into everyday materials for resale. Last year we began using small scraps of fabric to attach extra buttons (instead of plastic) and in recent months we have released collections made entirely from fabric stock remnants - like pantai shorts, scarves, and sarongs. We'll continue to evaluate our fabric stocks regularly to ensure that every last piece can be used. This month we're holding our first ever sample sale featuring repaired products. We'll continue this practice by repairing any pieces with minor defects and offering them at discounted prices.
Step 3 - Make more changes in shipping materials
In 2019 we made the switch to compostable mailers. And while a lot of the feedback we've received from customers was positive, we have also heard your concerns. We recommend removing the label (or cutting out that area of the mailer) for regular trash disposal and then composting the rest of the package. If your city does not have a compost practice, you can do it in your own yard! (Or potted plant on your patio or whatever space you have!) You can also carefully open and save the packaging for another use.
This year we're focused on eliminating plastic from the garments themselves. Shipping regulations require some kind of protection around the garments in transit from Bali to us, but we're conversing with other business owners and taking your incredible suggestions into consideration and making a new plan. We'll be sure to share more once a solution is in place!
We know that we aren't perfect in these areas. As a small business, change takes time and is incremental. But every small step really does make an impact! We're committed to continually evaluating and taking these steps as we can. We truly appreciate the questions, feedback, and encouragement.
Leave a comment